Services
Temporary Staffing & Referral Services
Placing the most suitable talent.
We provide highly skilled professionals for sales, administration, and more.
Have you experienced these frustrations?
There aren't enough sales/administrative staff to manage peak seasons.
We need staff that can work for longer periods of time.
We can't gather the kind of talent that can hit the ground running.
Let Prosper Corporation solve your problems—fast.
Prosper Corporation's Temporary Staffing and Referral Services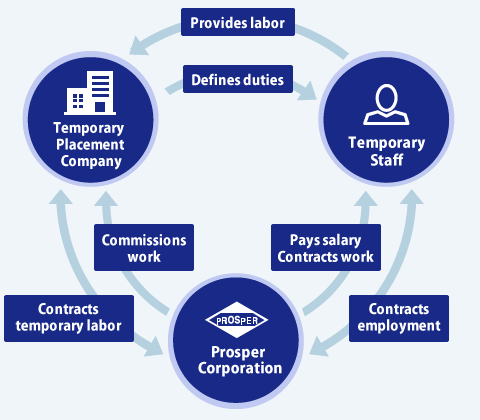 Prosper Corporation's temporary staffing and referral services involve a hiring contract between the temporary staff and the temporary staffing agency, not the company at which the staff works.
We recommend talent that meets the demands of your company and the temporary job position. We eliminate the stress that the recruitment process can cause.
We support temporary staff with every element of the job, including consultation about job duties and requirements, salary and payment, benefits, career advancement training, and more.
All you have to do is provide the staff with instruction.
Fields of Expertise



Administrative

(general, HR, accounting, etc.)




Sales




Retail




Event/convention staff
We can find staffing solutions for various fields. Feel free to contact us to find out more.